In this group you can find royalty free printable blank world map images. They have very large dimensions (1600 x 810 pixels), which make them especially suitable for printing purposes.

The license to use these images has the conditions of the general license of world-map images (click here) on this website.
| | |
| --- | --- |
| Description | Small image , which is linking to the large printable political world map image |
| 1. The water areas on this political world map are light blue and most of the land areas light green. Some cold land areas, like Antarctica, Greenland and Iceland, are filled on this world map with white color. | |
| 2. This political world map has light yellow continent areas and white ocean areas. | |
| 3. All land areas on this world map have white color and all ocean areas are transparent. | |
| 4. This is an outline printable blank world map with transparent ocean areas, light green land areas and dark green outline. | |
| 5. Here is a blank world map without country borders and without outline. The land areas on this map have light green color and the water areas are white. | |

Information about the source image

Author of the source: users Canuckguy and SkyBon in en.wikipedia.org and commons.wikimedia.org
License of the source: The source world map image, which has been used by redesigning it and creating the images in this group, has been released into the public domain. At the moment of getting the source there was written, that for this source image the permission was granted for anyone to use it "for any purpose, without any conditions, unless such conditions are required by law".

Link to the source: Source of the Printable blank world maps.

Below is a small png view of the source svg image - it is linking to the bigger png view (dimensions 800 x 406 pixels) of the source svg image.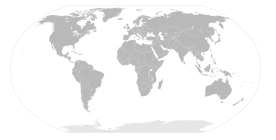 Hopefully you found from this group of world maps a printable blank world map for your needs. If not, then we wish you luck for searching and finding it from elsewhere.